Connect Bose SoundTouch 10 to WiFi using Linux / Telnet
Connect Bose SoundTouch 10 to WiFi using Linux / Telnet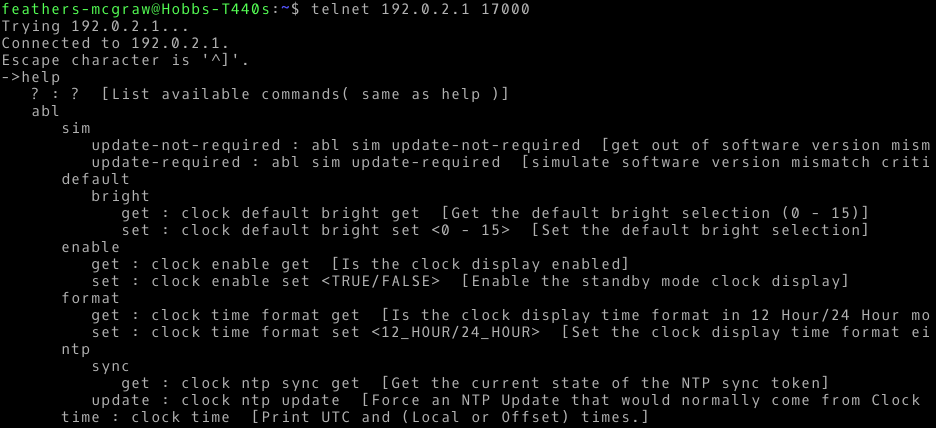 I recently received a Bose SoundTouch 10 speaker as a gift. The speaker itself is great, but I've found some of the features of the Android app don't work very well. Specifically, it seems to have trouble detecting the speaker and connecting to a new wifi network, endlessly looping instead.
I was convinced that there must be a way to connect to the device using Linux, and doing a little research online led me to this great post revealing that you can telnet to the Bose SoundTouch, and enable a shell.
What follows is instructions on how to connect to the SoundTouch manually using Linux (or Mac, or Windows box with PuTTY), and give it the username and password for a new wifi network so that you can start using the app again. Technically, it must be possible to add login details for a Bose account and change the hardware button presets from this interface too, but I'll leave that for you to experiment with.
Connecting to the Telnet Interface
First, you must put the system in setup mode. You can do this by pressing and holding the 2and volume down keys together for 5 seconds until the wifi LED turns amber.
Then, disconnect from your current internet connection and connect your computer to the Bose access point wifi.
You can then get the IP address of the speaker using the route command on your computer. Example output:
In this example, the IP address is 192.0.2.1. I would expect it to be the same for all Bose speakers, but it's worth checking if you have problems connecting using this IP address.
Now you can use the telnet command to connect to the speaker. The telnet interface is served on port 17000, so the command is:
Once you have connected successfully, type help to see a list of available commands. The first time I did this it didn't work, so you may have to do it more than once. If it looks barely readable here, that's because its formatting is barely readable in telnet! Here's what you should see:
If you are looking for something in this list, note that it isn't sorted into order based on logical grouping (like all network related commands in the same section), it's purely alphabetical. If you're looking for something in particular, you may want to paste the output into a text editor and search that way.
Setting a new WiFi configuration
You may have seen some wifi related commands in the output from help. The one you want to use to give the speaker a new SSID and password is this one:
e.g. for a router with SSID "foobarHub", password "topsecret" and WPA2 authentication, the command would be:
Important: the help command says that valid security types are none, wep, and wpa_or_wpa2. That isn't a typo! If your network is not password protected, use:
You should now see the speaker automatically find the new network and connect to it. Once it's connected to the network, the Bose SoundTouch Controller app should be able to find it - choose the option to connect to a device that is already on the network.
Enjoy!
Other Useful Commands on the Telnet Interface
There are lots of other things you can achieve using the telnet interface. Here are just a few commands I found particularly useful.
List WiFi status
1

2

<?xml version="1.0" encoding="UTF-8" ?>

<WiFiStatus SSID="foobarHub" state="WIFI_STATION_CONNECTED" frequencyKHZ="2412000" signalDBM="-41" />
Show Stored WiFi username/password combinations
1

2

3

4

<?xml version="1.0" encoding="UTF-8" ?>

<WiFiProfiles>

<profile SSID="foobarHub" priority="1" security="wpa_or_wpa2" passphrase="hashedPW" wepKey="somestring" encrypted="true" lastConnected="1453152992" />

</WiFiProfiles>
List Current Network Status
1

2

3

4

5

6

7

8

9

10

11

12

13

14

15

<?xml version="1.0" encoding="UTF-8" ?>

<Status primaryIsUp="false" primaryIPAddress="" primaryIsWired="false" accessPointIsUp="true" mode="wifiSetup" elapsedMs="4027">

<interfaceInfo name="lo" type="local" state="up" macAddress="000000000000">

<ipInfo IPAddress="127.0.0.1" SubnetMask="255.0.0.0" />

</interfaceInfo>

<interfaceInfo name="eth0" type="wired" state="down" macAddress="EC24B8A192FD" />

<interfaceInfo name="wlan0" type="wireless" state="down" macAddress="7CEC79694476" />

<interfaceInfo name="wlan1" type="wireless" state="up" macAddress="7CEC79694477">

<ipInfo IPAddress="192.0.2.1" SubnetMask="255.255.255.0" />

</interfaceInfo>

<interfaceInfo name="usb0" type="wired" state="up" macAddress="FED3C97DF205">

<ipInfo IPAddress="203.0.113.1" SubnetMask="255.255.255.252" />

</interfaceInfo>

<interfaceInfo name="mon.wlan1" type="wired" state="up" macAddress="7CEC79694476" />

</Status>
Notice that "usb0" is listed as an interface with an IP address - I think this is the "service" micro USB port on the back of the device. dmesgshows this output when a standard USB to micro USB cable is plugged in in to the speaker when it is on:
I think the "link is not ready" message happens because the device is not in the right mode (maybe there is a "service mode"?). I have a feeling that it should be possible to connect with telnet over USB, but I haven't managed it yet. If you can do it, please let me know how! There is some really useful information about IP traffic over USB at linux-usb.org that might help you if you are looking into this.
Other useful information

1 and volume down = reset system to factory defaults
2 and volume down = setup mode
3 and volume down = disable or re-enable WiFi and Bluetooth
4 and volume down = update software (if new firmware is available)
Sam Hobbs

·