iZND Services, Top 25 Managed Services Providers 2017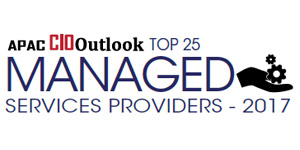 Top 25 Managed Services Providers 2017
As cited in CompTIA's 5th Annual Trends in Managed Services report, the global managed-services market is predicted to grow to $193B by 2019, at a Compound Annual Growth Rate (CAGR) of 12.5 percent. In the Asia-Pacific region alone, managed services market is expected to grow from $19.68 billion in 2013 to $70.48 billion in 2018, at a CAGR of 23.3 percent. What is fueling this impressive level of adoption? Why are so many business owners' fans of managed service practice?
One of the foremost reason for the growth of Managed Service practices has been because a Managed Services Provider (MSP) helps to bridge the gap between the capacity of a company's IT department, and the increasing demand for fast-moving, stable, high-performance business technology. CIOs across the globe are looking for MSPs that can deliver advanced services, including cloud infrastructure management, application management and business process outsourcing. This practice of outsourcing management responsibilities and functions by companies brings in a strategic method for improving operations and cutting expenses.
IT Companies are today seeking ways to better their uptime management functions by approaching Managed Service Providers. The current edition of APAC CIO Outlook thus brings to you, "Top 25 Managed Services Providers 2017". The companies in this list highlight some of the most prominent organization in the industry who with their managed service practices is capable of leading their clients towards excellence. The proposed list aspires to assist individuals and corporations to find the right Managed Service Providers who suit their specific requirement and who can help them accomplish their goals.
| Company Logo | Company Name | Company Description |
| --- | --- | --- |
| | AC3 | Offers public and private clouds alongside specialising in hybrid cloud solutions, from initial design till ongoing support |
| | | Strives to help businesses improve the way they work by implementing world-class technologies |
| | | Offers unified communications and contact center solutions and services |
| | Brennan IT | Makes business easier for clients with IT support, Managed Services, Data Networking, and Managed IT Services |
| | Bright Nexus | Strives to assist its customers improve their security posture by offering them solutions and services |
| | Century Link | An IT solutions provider assisting fortune 500 companies with hybrid IT services |
| | | CRM consultancy serving industry verticals across Automotive, Consumer Durable, Financial Services, Communication, Telematics in India, US and Middle East |
| | DDS IT | An Enterprise Service Management company that empowers organisations by offering increased stability, agility and innovation |
| | | Offers a next generation data protection platform to combat with the threats to sensitive data |
| | E-Bisprint | Offers varied integrated and innovative online solutions to assist and simplify the operational activities of its clients |
| | Efutures | Specializes in design, development, and implementation of web and software solutions |
| | | An ICT shared Services Company facilitating ICT outsourcing and managed services for efficient worldwide operations management for service providers and global enterprises |
| | iZND Services | Delivers a wide range of IT infrastructure outsourcing and management services |
| | LOOKUP Solutions | Specializes in the areas of IT services and delivers its outstanding IT support to the SMEs |
| | | Provides IT Support, Managed Services, IT Infrastructure and IT Consulting to small businesses across Perth |
| | | Delivers cyber resilience by building high-performing and efficient security, risk and compliancemanagement programs |
| | Offis | Provides multi-cloud managed services and other technology solutions to help organisations manage and govern workloads across public and private clouds |
| | | Specializes in complex, global service supply chain operations– flow of people, parts and services following the sale of a product |
| | Origin | A mid-market IT services and support company with offerings ranging from day-to-day IT support to strategic IT and security services |
| | | Provides managed detection and response services, DevOps security, and incident response by tightly bundling semi-autonomous cyber security platform and managed services with leading security technologies |
| | | Integrated ICT service provider for Enterprises |
| | Tentacle Technologies | Offers digital transformation services starting from ideation to execution |
| | Toshiba TEC Malaysia | Provides an array of seamless printing solutions and document management to deliver efficient experience to its clients |
| | | A trusted supplier of networking, integrated data and voice services and also offers solutions for finance, payment and telecom industries |
| | | Delivers enterprise grade comprehensive suite of ICT and cloud services and solutions for businesses of all sizes based on an ultra-speed FTTD broadband network |